I decided to celebrate my 44th birthday with a big party on Twitch and oh my, it was epic. A 10-hour show including an incredible 2-hour psytrance guest mix by RbR (give them a follow), it started later than my usual shows and went till deep in the night.
The first highlight was just ten minutes in when I was raided by DJ cquence (follow them as well), one of The Australians™ which gave me an instant push over the 50-viewers mark. Thank you for that, DJ cquence!
Things suddenly exploded when about 4 hours in Darude decided to raid me, bringing over 400 of his viewers to my channel, many of which took the opportunity to follow me, pushing me over the 500-followers mark – that means you'll get at least an extra show at some point.
RbR's guest mix was 2 hours of fantastic psytrance and a lovely picture of a cute little doll of SagaMusix. Thank you once again for giving me the chance to eat a pizza and rest my feet a little bit before continuing, RbR!
I played for 4 more hours during which I was once again raided, this time by The Other Australian™ aka Panda Station™ aka liquid_bongo (follow them, that's an order)! Thank you for that as well, my favourite panda.
After toning it down for a bit in the last 30 minutes I then took what was left of my viewership over to Dave Dresden (from Gabriel & Dresden) to enjoy soothing and mellow progressive trance vibes until it was time for bed.
Totally off to the side during the stream my wife created a painting of me doing my thang. Here is a first preview, and it's amazing!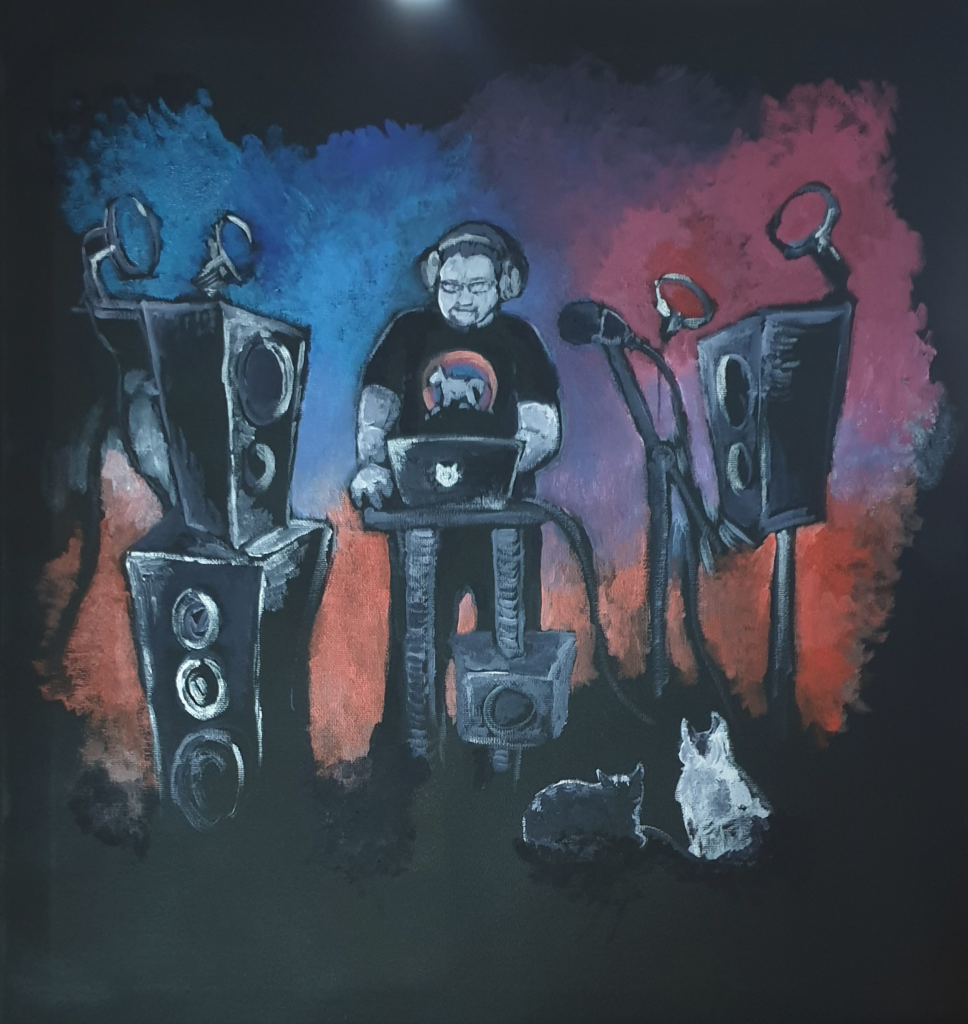 All in all it was an amazing event and I have no idea how it could have gone any better. Many friends, old and new alike, were there and chatted for a bit, a lot more were simply lurking (100% okay with me), and not a single ounce of bad vibes was to be found anywhere. Thank you all for making this birthday one of the most memorable of my life
, even though I couldn't actually hug any of you!
You can download the show here, and this is the playlist:
| Offset | Artist | Title |
| --- | --- | --- |
| 00:00:00 | Andain | Turn Up the Sound |
| 00:05:02 | Liz Cass, Leftwing : Kody feat. Liz Cass | Gravity |
| 00:10:20 | Robert Miles, Tinlicker | Children |
| 00:15:19 | Mode Apart | Voyage |
| 00:20:08 | Andrew Rayel, Olivia Sebastianelli | Everything Everything (Cosmic Gate Remix) |
| 00:25:05 | Tranquility Base, Above & Beyond | Oceanic (Jerome Isma-Ae Remix) |
| 00:30:40 | Andy Duguid feat. Leah | Wasted |
| 00:36:41 | Armin van Buuren, Sharon den Adel | In and out of Love (Maor Levi, Ilan Bluestone Remix) |
| 00:42:36 | Simon Patterson, Lucy Pullin | Blink (Ben Gold Remix) |
| 00:47:27 | Kenny Palmer | Quel'Danas |
| 00:52:06 | Allen Watts, Steve Dekay | The Phuture |
| 00:56:37 | Darren Porter | Species |
| 01:00:54 | Protoculture feat. Shannon Hurley | Sun Gone Down |
| 01:06:27 | i_o | Castles in the Sky |
| 01:10:52 | DT8 Project | Broken |
| 01:15:28 | Adam White, White Room, Andy Moor | The White Room |
| 01:21:59 | Above & Beyond feat. Richard Bedford | On My Way To Heaven (Above & Beyond Club Mix) |
| 01:26:52 | Andrew Bayer feat. Molly Bancroft | Keep Your Secrets (Myon & Shane 54 Summer Of Love Remix) |
| 01:31:31 | Aly & Fila, Aruna | The Other Shore (Solarstone Pure Mix) |
| 01:36:44 | Ørjan Nilsen feat. Rykka | The Hardest Part |
| 01:41:22 | Ridgewalkers feat. El | Find (Andy Moor Remix) |
| 01:46:00 | The Thrillseekers | Synaesthesia 2004 (Ferry Corsten Remix) |
| 01:52:23 | Begold | Sun Stroke |
| 01:56:13 | John O'Callaghan feat. Kathryn Gallagher | Mess Of A Machine (Sean Tyas Remix) |
| 02:01:33 | Gareth Emery feat. Lucy Saunders | Sanctuary (Club Mix) |
| 02:06:28 | Armin van Buuren, Rising Star, Cari | The Voice |
| 02:10:38 | Kyau & Albert | A Night Like This |
| 02:14:35 | First State feat. Relyk | Cross The Line |
| 02:18:57 | Key4050 | Faustino |
| 02:23:10 | David Forbes | Splice |
| 02:27:26 | Above & Beyond feat. Zoe Johnston | Peace Of Mind |
| 02:31:38 | Kyau vs Albert feat. Marc Marberg | Megashira |
| 02:36:23 | Armin van Buuren | These Silent Hearts (feat. BT) |
| 02:41:22 | Full Tilt feat. Deirdre McLaughlin | Surrender (Sneijder vs. John O'Callaghan Remix) |
| 02:47:19 | Pendulum | The Island (Lisko Remix) |
| 02:51:29 | Ernesto vs. Bastian | Dark Side of the Moon |
| 02:57:30 | Tiësto | He's a Pirate (Orchestral Mix) |
| 03:02:50 | Greg Downey | Rendezvous |
| 03:09:11 | Smith & Brown | Pithos |
| 03:13:57 | Heatbeat | Ask The Cat |
| 03:19:32 | Andy Moor & Ashley Wallbridge feat. Meighan Nealon | Faces |
| 03:25:59 | Darude feat. Blake Lewis | I Ran (Gareth Emery Remix) |
| 03:32:37 | Super8 & Tab | Elektra |
| 03:39:26 | Lange and Andy Moor | Stadium Four |
| 03:43:10 | Andrew Rayel | Aeon Of Revenge |
| 03:48:09 | Ben Gold feat. Kathryn Gallagher | Fall With Me |
| 03:52:51 | Solarstone with Aly & Fila | Fireisland (Aly & Fila Uplifting Mix) |
| 03:59:21 | Nic Chagall vs Wippenberg vs Rank 1 | 100 |
| 04:04:27 | Solarstone | Seven Cities (Tom Staar Remix) |
| 04:08:10 | Gouryella | Gouryella (Alan Fitzpatrick Tribute To 99 Remix) |
| 04:12:21 | System F | Out Of The Blue (Ilan Bluestone Remix) |
| 04:15:21 | Alan Silvestri | The Avengers Theme (XiJaro & Pitch Endgame Remix) |
| 04:19:46 | Dogzilla | Without You (John O'Callaghan's Nailz Dub) |
| 04:23:56 | Ferry Corsten feat. Aruna | Live Forever (Shogun Remix) |
| 04:28:10 | Cosmic Gate & Eric Lumiere | Run Away (Alexander Popov Remix) |
| 04:31:42 | Richard Durand | Perseverance |
| 04:34:57 | BDH | Unity |
| 04:39:22 | jco | When We Rise |
| 04:44:01 | Optimize & Lug00ber | Variform (Optimize & Lug00ber remix) |
| 04:48:44 | Saga Musix | Coast Drive |
| 04:57:05 | Little Bitchard | Choose Zero Polys and Shaders (Trance VIP 16) |
| 05:00:19 | Saga Musix | Tapdancer |
| 05:02:38 | Ben Gold | Thriller |
| 05:06:55 | Dan Stone feat. Victoria Shersick | Only The Memories |
| 05:11:11 | Wayfinder | Darkvark |
| 05:17:56 | David Nimmo | Bipolar |
| 05:22:07 | Susana, Ciaran McAuley | Daring To Love |
| 05:27:18 | jco | Rainbow to Eternity |
| 05:30:34 | Ferry Corsten, Ciaran McAuley | Mo Chara |
| 05:35:42 | John O'Callaghan feat. Audrey Gallagher | Big Sky |
| 05:41:51 | Gabriel & Dresden feat. Jan Burton | Dangerous Power (Kuffdam And Plant Remix) |
| 05:48:40 | Karanda & Fisher | Gone |
| 05:53:40 | Boom Jinx & Meredith Call | Bring Me Back Around (Oliver Smith Remix) |
| 05:57:30 | Giuseppe Ottaviani | Till We Meet Again |
| 06:01:30 | Ram | Ramsterdam (Jorn van Deynhoven Remix) |
| 06:06:32 | Alt + F4 | Alt + F4 |
| 06:11:44 | John O'Callaghan & Betsie Larkin | Save This Moment (Gareth Emery Remix) |
| 06:17:07 | Boom Jinx & Oliver Smith | Sunrise |
| 06:22:06 | Above & Beyond | Crash |
| 06:26:17 | Jurgen Vries | The Theme (Binary Finary Remix) |
| 06:31:16 | Energy 52 | Cafe Del Mar (Three 'N' One Mix) |
| 06:36:50 | Billy Gillies | Closed Eyes |
| 06:40:32 | Sean Tyas | The Rhythm |
| 06:44:57 | Aly & Fila, Plumb | Somebody Loves You |
| 06:51:12 | Andain | Promises (Gabriel & Dresden Remix) |
| 06:56:39 | Kuffdam & Plant feat. Ferry Terminal | The Ones We Loved (Dogzilla Mix) |
| 07:03:23 | Dennis Sheperd feat. Molly Bancroft | Wanting |
| 07:07:07 | MaRLo, HALIENE, Triode | Castles in the Sky |
| 07:11:14 | Above & Beyond feat. Zoe Johnston | Alchemy (Above & Beyond Club Mix) |
| 07:15:24 | Elysian (UK) | Water |
| 07:19:28 | Marco V | Unprepared |
| 07:23:46 | Gabriel, Dresden, Sub Teal | Only Road (Cosmic Gate Mix) |
| 07:27:46 | Adam White | Ballerina |
| 07:33:07 | Kyau & Albert feat. Jeza | Bring You Back (DJ Version) |
| 07:36:44 | Sunny Lax | Losing It |
| 07:40:32 | Blank & Jones feat. Robert Smith | A Forest |
| 07:45:18 | Ana Criado & Omnia | No One Home |
| 07:50:31 | Arnej | They Need Us (Club Edit) |
| 07:53:57 | Oceanlab feat. Justine Suissa | Satellite (Above & Beyond Remix) |