Okay, this will also be a long post so get seated and buckle up! We're gonna start slowly with this picture that my wife painted two years ago during my Birthday Bash. I already showed it to you back then but my wife made some small alterations (and signed it!) and I did take a better picture of it before the show so please enjoy the new version of this masterpiece: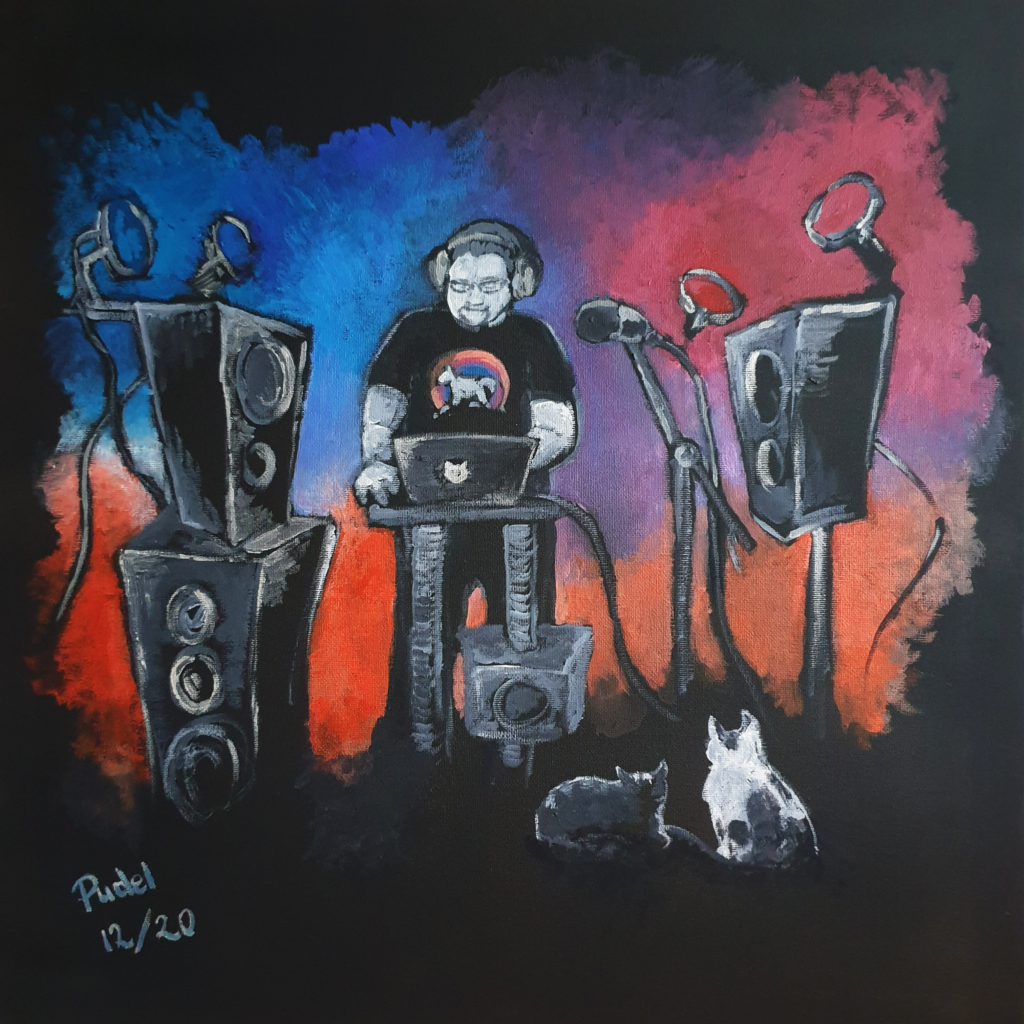 This is now also my profile picture/avatar on Twitch and on Mixcloud and on the CQAH Discord. As it should be!
Anyway, after the fiasco two weeks ago I sat myself down and thought a bit about how I wanted the show to continue in the future. I really like playing charts because it relieves me of the burden to pick tracks
but simply spooling off the Top 50 began to feel kinda lazy. Additionally a usual show was about four hours long and with the post-processing time (getting the recording of the console, cut it, encode it, tag, upload it to my web server, upload it to Mixcloud, prep the show on Mixcloud, write a blog post, and then publish all that) that usually meant that I got to be no earlier than after midnight – my alarm clock starts ringing at 6:30 and as I'm getting older I'm also getting less tolerant of getting less sleep than about eight hours. Sure, moving the show to 18:00 (or even 17:00) would alleviate that problem but then I would have to leave earlier from work and that sometimes just isn't a possibility. It's usually not a problem but I'm only thinking about all the corner cases!
That left either moving the show to a different timeslot (somewhere closer to the weekend) or making it shorter.
Another thing that I think makes for better DJ set is a more appropriate order for the tracks. A very common rule for DJ sets is "start slow, get faster" because it simply works but when you have no control over the order of the tracks you're in quite the dilemma as you need to play tracks with wildly differing tempos back to back, either speeding up and slowing down all the time or forcing everything to roughly the same tempo (which is the approach I have chosen, in case you never noticed: all my shows are at 138 bpm
). And when I'm already abolishing the chart order, maybe I can also take it a bit further and pick what I want to play more deliberately? Tinlicker is still in the Top 50 but I had to change my code to make that track disappear so I wouldn't have to play it anymore but another solution would have been to simply not play it!
So, now I was at handpicking the tracks I wanted to play and playing them in an order that made more sense than the chart's order, and it was good. However, another problem began to present itself: preparation time! Until now I just went and got all the new tracks I needed to play, uploaded them to the console and that was it. But when I want to handpick tracks for the next show I need to listen to at least all the new tracks, right? Because I still want to make sure you do not miss the latest and greatest tracks so a probabilistic approach wouldn't cut it…
The data I use to create the charts that I play is updated at the source once per day and I fetch it multiple times per day in order to catch updates. That means the earliest I could start preparing a show would be around Sunday at noon (with the possibility of getting later updates until Monday morning at 8:00) and I have usually started the preparations on Monday or even on Tuesday. That wouldn't do it anymore, now that I need to listen to it all so I changed my software again to move that seven-day window I use two days ahead so that I could start prepping a new show Friday afternoon and have basically the whole weekend to listen to all the tracks and find the ones I really like.
All in all, that sounds doable. I'm gonna see how it actually works out; this week's show has been prepped on a slightly different timescale but the end result is pretty neat. I thought I would have to skip tracks extra hard but the first pass of selection yielded 27 tracks which was totally within the target range for number of tracks I wanted to play and I think this show is better for it.
After I have now bored you enough with all the technical stuff, here's what you have been waiting for; listen to it on Mixcloud, or download the show and copy it to cassette to listen on your walkman while jogging!
You can download the show here, and this is the playlist:
| Offset | Artist | Title |
| --- | --- | --- |
| 00:00:00 | Alexander Popov, Whiteout | Never Cry Again |
| 00:04:41 | Vintage & Morelli | Crossroads |
| 00:09:56 | Laura van Dam | This Love |
| 00:13:01 | Above & Beyond, Richard Bedford | With Your Hope (Maor Levi Remix) |
| 00:17:52 | Fuenka, JES, Paul Thomas | Eugina |
| 00:23:18 | Arkham Knights | The Capture |
| 00:28:44 | Alina Renae, Nicholas Gunn, Protoculture | Wings |
| 00:33:31 | Firewall, Lange | Sincere (Tomac Remix) |
| 00:36:58 | David Forbes | Decibel |
| 00:40:53 | A.D.D.A. | Divos |
| 00:45:11 | Ahmed Romel, Christina Novelli | Lost in Love |
| 00:51:12 | Frank Waanders, Ralphie B | Punching the Air |
| 00:55:27 | Greg Downey | Circa |
| 01:01:26 | Kenny Palmer | Sha'tari |
| 01:05:43 | David Rust | Stay |
| 01:10:07 | John Askew, Shelby Merry | When Darkness Comes (Ben Gold Remix) |
| 01:16:31 | Alex Prima, Sarah de Warren | When We Say Goodbye (Christopher Corrigan Remix) |
| 01:22:08 | Maarten de Jong | Atom (138 Remix) |
| 01:26:49 | Simon Patterson | Voodoo |
| 01:31:01 | Metta & Glyde | Cynosure |
| 01:35:09 | David Forbes, Susie Ledge | Silent Waves (Factor B's Dark Waters Remix) |
| 01:40:45 | Peetu S | Reach for the Lasers |
| 01:45:13 | Renegade System | Out of Control |
| 01:49:09 | Will Atkinson | Freak of the Week |
| 01:53:48 | Omar Sherif, Susie Ledge | Here With Me |
| 02:00:08 | Ben Nicky, Emma Hewitt | Collide |
| 02:04:17 | Activa, Shelley Segal | Fall in (Cold Blue Remix) |