Story Time!
Last week I finally decided to get me a dedicated Windows PC for streaming (and maybe a little gaming because of course around 99% of the games I own on Epic and Steam are not available for macOS). I tried to compare different things but nowadays there is simply too much choice, is that weird? You go on Amazon, enter some search term, get several hundred results, and everything has either no ratings at all, or it has both perfect and horrible ratings, with one them telling you "this is the best thing since sliced bread" and the other one telling you "it killed my dog and ran off with my girlfriend." How the fuck am I supposed to make an informed decision here? Choice paralysis is real!
Anyway. I knew I didn't want a full desktop system as I don't want to waste a lot of space for something like that, and I wanted something that has a GPU inside that can do hardware encoding of AVC and HEVC (more commonly known as H.264 and H.265) because that's what OBS will be doing. I found something on Amazon that didn't look too bad, and I purposely did not look at any comments because screw them, but I did manage to find the name of the GPU used in it, and I also managed to find a humongous table on Wikipedia that apparently had every GPU that AMD has ever made in it, and that told me that something called "Video Core Next" was supported in version 2.2, and so I had to look in another table what that even means, and then the information wasn't even in that table but in the paragraph before the table which informed me that all version of VCN >= 2.0 support hardware decoding and encoding of both AVC and HEVC (among others).
Okay, so I pulled the trigger on this thing: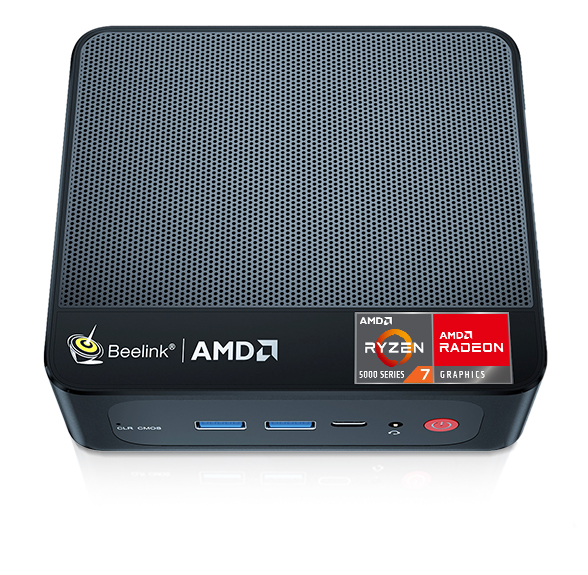 It is very cute
and it has Windows 11 pre-installed. Not usually my thing but I'm trying to be a simple consumer here so I went with it: pre-installed Windows 11 it is. I installed OBS and a couple of other tools and gadgets, attached all the webcams and the peripherals and the monitor and imported my scene collection into OBS. Most of it worked immediately, a couple things (like some plugins) were missing but that was easy to fix. Within a few minutes OBS was happily chugging along, compositing multiple sources into a nice 1080p60 stream which is also flawlessly encoded and sent to Twitch without any hiccups. Looks like I have one thing less to worry about!
And then I looked through my collection of games for something I could install and try and found Control, a game from 2019 which sounded like it had an interesting story and because it was already four years old it probably wouldn't look too bad, I hope.
I was right, it didn't. It did the whole ray-tracing thing and that really mixed well with my 4k screen and physical desktop resolution and my 1366 x 768 internal rendering resolution. The best thing about this game is that it has an assist mode, allowing you to take and deal more damage, up to immortality and one-shot kills. This is perfect for me! I like playing games for their story, I don't need enemies with ever-increasing strength, I don't care about any "rewarding system" the developers have cooked up, I don't really want to deal with enhanced combat tactics and crafting items to improve my weapons performance or some such shit, I want to live and enjoy the story! I never was the best in first-person shooters and let me tell you, my reaction time has not been improved by turning 47! I couldn't even finish Half-Life 2 back then because the last boss fight was more than I could handle (and I've tried for about 15 fucking hours that I'll never get back) and in the end I had to watch a fucking YouTube video to find out how the game ended like a fucking pleb! Is that what you want, video game developers?!
Screw you, give me a god mode and I'm happy!
Anyway, I digress. So today I was working from home and I used the opportunity to perform a long-time test of the new machine's streaming capabilities. I fired up OBS, and REAPER, and QLC+, set everything to how it's supposed to be during a stream and started streaming (using Twitch's bandwidth test mode which takes the stream but doesn't publish it).
Long story short: after 10 hours of test-streaming, not a single problem was found, not a single frame was dropped, frame time was consistently below 1ms and the machine itself didn't even get very hot. The light stuff didn't miss a single beat (DMX needs constant output otherwise DMX-controlled lights will simply turn off) which was also new and way better than it was previously using macOS. All in all a successful test!
So then tonight the only failure during the stream came not from OBS, or Windows, or the hardware it ran on but my internet connection. It decided to drop out for a minute or two and left me slightly panicked but in the end it came back quick enough for things to not be ruined. So, live test also successfully completed:
And that finally brings us to tonight's show. Last week's second-favourite has actually made it to the favourite spot this week: Addicted to Love by Driftmoon!
The rest of show has been great as well and you can listen to it right here, right now:
The next show will happen on Wednesday, April 12, at
19:00 CEST/UTC+2.
You can download the show here, and this is the playlist:
| Offset | Artist | Title |
| --- | --- | --- |
| 00:00:00 | Delerium, Sarah MacLachlan | Silence (Andrew Rayel & Achilles Remix) |
| 00:03:30 | Man With No Name | Teleport (Save the Robot Remix) |
| 00:09:28 | Taucher | Infinity (Patrik Humann Remix) |
| 00:13:09 | Dan Miles | Away |
| 00:17:27 | Ruben Karapetyan | Meteorite (Jerome Isma-Ae Remix) |
| 00:21:31 | Eelke Kleijn | Transmission (Armin van Buuren Remix) |
| 00:25:30 | Allen Watts, Cari, Rene Ablaze | On My Way |
| 00:30:04 | Alessandra Roncone | Unkonsciousness (UNK23 Anthem) |
| 00:35:26 | Lucy Saunders, Ronski Speed | Calm Before the Storm (Ferry Tayle Remix) |
| 00:39:23 | Alex M.O.R.P.H., Roman Messer | Cyberia |
| 00:42:48 | Carol Lee, The Doppler Effect | Beauty in the Deep (James Dymond Mix) |
| 00:48:29 | Nikolauss | Rewind |
| 00:52:38 | Robert Curtis | The Butterfly Effect |
| 00:57:26 | abSTrakt | In the Dark |
| 01:01:58 | Daxson | Who We Are |
| 01:06:34 | Mark L2K, Norman Van Thee | Beyond Our Earth |
| 01:10:35 | Arielle Maren, Factor B | Connected (Lostly's Change of Season Remix) |
| 01:15:44 | Nicolas Menicou | What's Left of Me |
| 01:20:05 | Jetason, Lostly | Start a Fire |
| 01:25:07 | BiXX | Anthems of Life |
| 01:29:42 | John Askew | Aces Hi |
| 01:35:01 | Kenny Palmer | Temple of Storms |
| 01:39:19 | Talla 2XLC | Phenomena |
| 01:44:03 | Andrew Peters | Evolve |
| 01:48:37 | Solarstone | Leap of Faith (Allan Morrow Remix) |
| 01:54:33 | Driftmoon | Addicted to Love |
| 01:59:06 | JES, Roger Shah | New Horizon |
| 02:05:10 | Cold Rush, Kaimo K, Katty Heath | Here I Am 2023 |
| 02:10:54 | David Forbes, Paul Denton | Bang |